| | |
| --- | --- |
| | Alaska Promissory Note Templates |
The Alaska promissory note templates are legally enforceable written agreements that are used to outline the terms of a loan. Otherwise referred to as "notes," they typically detail the loan's payment periods, term length(s), interest rate(s), and other pertinent information. Notes are legally binding, if the borrower does not repay the loan then the lender has the right to file a civil lawsuit (or pursue repayment via other means). Secured notes allow the borrower to offer collateral in order to back the loan. The lender may take possession of the asset(s) if the borrower defaults on the note.
Usury Rate – Alaska Statutes (A.S. 45.45.010-.070) state that the maximum interest rate is 10.5%.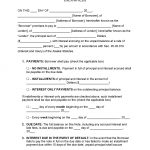 The Alaska secured promissory note is a legally binding document that allows a borrower to offer collateral in order to "back" the loan. The note also outlines the various terms of the loan. Lenders typically prefer secured notes over "unsecured" notes when lending to a borrower that is considered to be at risk of nonpayment. If […]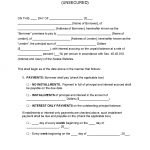 The Alaska unsecured promissory note template is legally enforceable document that outlines the various terms of a loan. Unlike secured notes, unsecured notes are not backed by the collateral of the borrower. Unsecured notes will typically have higher interest rates due to the fact that they are not backed by any collateral. These types of notes […]