| | |
| --- | --- |
| | Alabama Promissory Note Templates |
The Alabama promissory notes allow a lender to let another party, the "borrower", borrow money for an extended period of time with the intention of being paid back. The note will usually cover the payment periods, pay-back requirements for said period, interest rate, and any other terms negotiated by the parties. If the note is not paid back by the borrower, the lender will have the legal right to pursue the debt legally (Small Claims court or other). If the parties signed a secured note, the lender will have the right to obtain the asset mentioned as collateral.
Usury Rate – Under Section 8-8-1, the maximum a lender may charge for interest is eight percent (8%).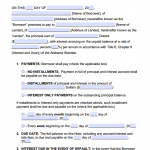 The Alabama secured promissory note is a document that serves as a written contract between two parties, a lender and borrower; whereas the lender will provide a monetary loan to the borrower while the borrower provides personal property as security, in the event they default on the loan. Should this be the case, the lender […]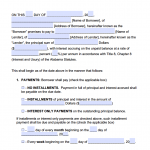 The Alabama unsecured promissory note template is a legal, interest bearing document, that is implemented between a lender and borrower. The lender would provide a monetary loan to the borrower without the necessity of any property in place to provide security, in the event of default. Generally, in this case, the borrower is considered low […]