| | |
| --- | --- |
| | Arkansas Promissory Note Templates |
The Arkansas promissory note templates allow two parties to enter into an agreement regarding a loan. The lender will typically have the other party (the borrower) sign a promissory note in order to establish the various terms (repayment method, frequency, interest rates, late fee details, etc.) of the loan. If the borrower signs what's known as a "secure" note they will be required to offer some form of collateral. The lender may take possession of the backed asset(s) if the borrower defaults on the loan.
Usury Rate – According to the Arkansas Constitution (Article 19, §-13) the (maximum) usury rate is seventeen percent (17%).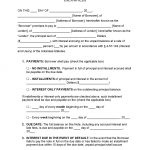 The Arkansas secured promissory note is a type of contract that is entered into by two parties (a lender and a borrower). The contract serves to establish the various terms of a loan (repayment method, term length, interest rate, collateral, etc.). The note is "secured" because the borrower offers collateral in order to receive the loan. […]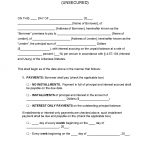 The Arkansas Unsecured Promissory Note Template is a written agreement that outlines the terms of a loan. The payment method, term length, interest rate, and other related details comprise the bulk of the document. The note is "unsecured" because it is not backed by the collateral of the borrower. Use the links on this page to download […]