| | |
| --- | --- |
| | Arizona Promissory Note Templates |
The Arizona promissory note templates are legal documents that lenders use to establish the terms of a loan. There are two types of promissory notes; secured and unsecured. Secured notes are backed by the collateral of the borrower. If the borrower defaults on a secured note, the lender has the right to file a civil lawsuit (or take possession of the assets listed as collateral). Both types of notes contain the personal information of the borrower, as well as the specific terms of the loan (term length, repayment schedule, interest rates, etc.).
Usury Rate – Under AZ 44-1201, the maximum per annum interest rate is capped at ten percent (10%). This applies to agreements that were not made in writing, and those that are written can be any amount.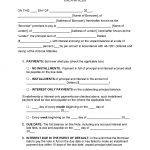 The Arizona secured promissory note is a contractual document that is entered into by a lender and a borrower. The document establishes the specific terms of a loan (payment details, term length, interest rates, etc.). Secured notes require that the borrower provide collateral. If the borrower defaults on the note, the lender has the legal right […]
The Arizona Unsecured promissory note is a legal document that establishes the various terms of a loan. Unsecured notes, as opposed to secured notes, do not have attached assets (meaning there is no collateral offered by the borrower). Lenders typically offer these types of loans to borrowers who are considered to be low risk, however […]