| | |
| --- | --- |
| | Colorado Promissory Note Templates |
The Colorado promissory note templates can be downloaded in .PDF or Word format. The .PDF file can be filled out and signed electronically. Promissory notes are a type of written agreement/contract between a lender and borrower. There are two specific types of notes; secured and unsecured. Secured notes are accompanied by collateral (pledged by the borrower). If a borrower defaults on a secured note, the lender has the right to take possession of the pledged collateral in order to satisfy the debt. If an unsecured note is defaulted on, the lender may file a judgement against the borrower in an attempt to satisfy the debt. However, since there is no backed collateral the lender may not necessarily regain the full balance of the loan. Unsecured notes are typically used with borrowers who have excellent credit histories or high income levels.
Usury Rate – Under Title Six of the Colorado Revised Statutes (C.R.S. § 6) the maximum consumer interest rate is twelve percent per annum (12%). Moreover, the general usury limit is 45%, and the legal rate is 8%.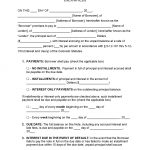 The Colorado Secured Promissory Note Template is a contract that is used to establish the terms of a loan. The note is "secured" due to having the backing of the borrower's pledged collateral. Should the borrower default on the note, the lender can legally take possession of the collateral in order to satisfy the unpaid balance. After […]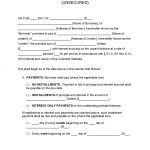 The Colorado Unsecured Promissory Note Template is available for download in .PDF or Word format. Unsecured promissory notes differ from secured notes in that they do not have the backing of the borrower's collateral. Therefore if the borrower defaults, the lender will need to file a judgement against the borrower in order to satisfy the […]