| | |
| --- | --- |
| | Delaware Promissory Note Templates |
The Delaware promissory note templates are written agreements that lenders use to outline the terms of a loan. There are two different types of promissory notes; secured and unsecured. Secured notes are backed by collateral that is pledged by the borrower. If the borrower defaults on the note, the lender can take possession of the pledged collateral. Unsecured notes are not backed by any collateral, and are typically only used with borrowers who have excellent credit.
Usury Rate – Under § 2301 the maximum interest rate that may be used in the State of Delaware is 5% (over the Federal Reserve discount rate).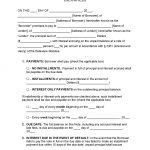 The Delaware Secured Promissory Note Template is a contractual document that is entered into by two parties (lender/borrower). The note serves to outline the various terms of a loan, and is "secured" because the borrower pledges collateral to the lender. If the borrower defaults on the note, the lender can legally take possession of the pledged assets […]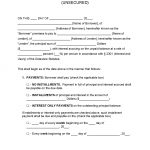 The Delaware Unsecured Promissory Note Template is a type of written agreement that is used to detail the terms of a loan. In contrast to "secured" notes, unsecured notes are not backed by collateral (of the borrower). Unsecured notes are most often used for borrowers who are deemed "low risk" (in that they have either excellent […]