| | |
| --- | --- |
| | Florida Promissory Note Templates |
The Florida promissory note templates can be downloaded in .PDF or Word format. The .PDF file can be filled out and signed electronically. A promissory note is a type of of written agreement that is used to establish the various terms of a loan. The agreement is entered into by two parties (the lender and borrower), and must be signed by two witnesses in order to be legally enforceable. "Secured" notes are backed by assets pledged by the borrower. Should the borrower default on the loan, the lender may take possession of the assets. "Unsecured" notes are not backed by collateral, and therefore typically have higher interest rates.
Usury Rate – Under F.S. Ch. 687 the maximum interest rate (on loans under 500,000) is 18%. The maximum interest rate for loans over 500,000 is 25%.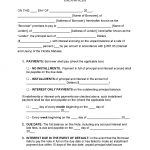 The Florida Secured Promissory Note Template is a written contract that is entered into by a lender and a borrower. The note is used to identify the specific terms of a loan (such as the principal sum, interest rate(s), payment method, payment schedule, etc.). Secured notes differ from unsecured ones in that they are "secure" due […]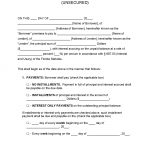 The Florida Unsecured Promissory Note Template is an interest-bearing document that is used to outline the specific terms of a loan. "Unsecured" notes are not backed by the collateral of the borrower, in contrast to "secured" notes (where the borrower pledges his/her assets). Unsecured notes/loans are typically only issued to a borrower who the lender feels […]