| | |
| --- | --- |
| | Georgia Promissory Note Templates |
The Georgia promissory note templates are available for download in either .PDF or MS Word format. The note templates are designed to be used when drafting a secured or unsecured note. The difference between the two note types is that a secured note is backed by collateral (of the borrower). Unsecured notes however are not backed by pledged collateral (and therefore are usually subject to higher interest rates). Take note of the usury rate information provided below.
Usury Rate – Under Georgia State law (§ 7-4-2) interest rates may not exceed 7% per annum (if the percentage is not established in writing). If the principal sum in less than $3,000 then the interest rate cannot exceed 16%. Loans over $250,000 may have any interest rate, however it must be expressed in written form (in an agreement).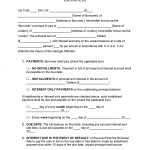 The Georgia Secured Promissory Note Template is a legal document that is available in .PDF or Word format (via the links on this page). The document outlines the various terms of a loan (including the principal sum, interest rate, interest due in the event of default, and more). Secured notes differ from unsecured ones due to […]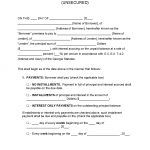 The Georgia Unsecured Promissory Note Template can be downloaded in either Word or .PDF format using the links near the top of this page. The template is designed to be used to outline the various terms of a loan (principal sum, interest rate, payment schedule, late fee details, etc.). Unsecured notes are not backed by pledged […]