| | |
| --- | --- |
| | Hawaii Promissory Note Templates |
The Hawaii promissory note templates can be downloaded in .PDF or Word format. Promissory notes are written agreements that provide an overview of a loan's various terms (such as the principal sum, interest rate, payment schedule, late fee details, etc.). There are two different types of notes; secured and unsecured. Secured notes have the backing of assets pledged by the borrower as collateral. Should the borrower default on the note/loan, the lender has the right to take possession of the assets. Unsecured notes/loans are not backed by any collateral and typically have higher interest rates.
Usury Rate – Under H.R.S. 478-2 (Hawaii Revised Statutes Chapter 478) the maximum interest rate is 10% if no written contract is established. Otherwise, 12% is the general usury limit, and 10%  is the limit on judgments.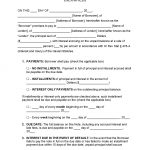 The Hawaii Secured Promissory Note Template is available for download in both .PDF and Word format. The document may be used to draft a secured note. Secured notes are a type of written agreement entered into by a lender and a borrower. The form serves to outline the terms of the loan (interest rates, payment […]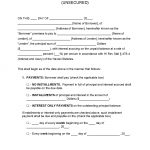 The Hawaii Unsecured Promissory Note Template is a legal form that describes the various terms of a loan (such as the payment information, interest rates, principal sum, etc.). Unsecured notes differ from secured ones in that they do not have the backing of the borrower's pledged collateral. The template is available for download in .PDF […]