| | |
| --- | --- |
| | Iowa Promissory Note Templates |
The links provided on this page can be used to download the Iowa promissory note templates in Word or .PDF format. A promissory note is essentially a type of written agreement that outlines the specific terms and stipulations of a loan (e.g. principal sum, interest rate, payment details, and other relevant information). Secured notes are backed by a borrower's pledged assets (i.e. collateral), whereas unsecured notes do not have any collateral pledged from the borrower. Use the links on this page to learn how to draft a promissory note.
Usury Rate – Under Iowa Code 535 the maximum interest rate (per annum) is five percent (5%).
The Iowa Secured Promissory Note Template is a type of written agreement entered into by a lender/borrower. The agreement is used to establish the terms of a loan, as well as bind the borrower to those terms. The principal sum, interest rate, payment method, and other details are covered in the document. The template may be […]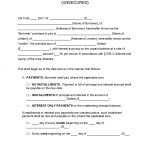 Download the Iowa Unsecured Promissory Note Template in Word or .PDF format using the links posted near the top of this page. Unsecured promissory notes differ from secured notes due to the fact that they do not have any collateral (pledged by the borrower). Use the instructions posted below to learn the requirements of a […]