| | |
| --- | --- |
| | Illinois Promissory Note Templates |
The Illinois promissory note templates are designed to be used as a starting point when drafting a secured or unsecured promissory note. The difference between a secured and unsecured note, is that unsecured notes do not have assets pledged by the borrower as collateral. If a borrower defaults on a secured promissory note, the lender can take possession of the collateral. The templates are available in .PDF or Word format, and can be downloaded via the links on this page.
Usury Rate – Under Chapter 800 of the Illinois Compiled Statutes (815 ILCS 205/4) the maximum interest rate is 9%.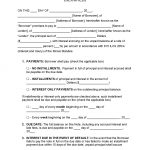 The Illinois Secured Promissory Note Template is available for download in MS Word or .PDF format. Secured promissory notes are backed by the borrower's pledged assets. If the borrower defaults on the loan, and fails to cure the default, the lender may legally take possession of the pledged collateral. The guide below is intended to provide […]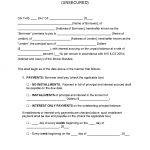 The Illinois Unsecured Promissory Note Template is a legal document that is available in .PDF or Word format. Unsecured promissory notes are not backed by a borrower's pledged assets (hence being "unsecured"). Lenders have a higher risk when using unsecured loans/notes, therefore they are typically only issued to "low-risk" borrowers. Use the instructions posted below as […]