| | |
| --- | --- |
| | Indiana Promissory Note Templates |
The Indiana promissory note templates allow a lender and borrower to enter into an agreement regarding a loan. Promissory notes can be secured or unsecured, with the difference being secured notes are backed by the borrower's pledged assets (i.e. collateral). Unsecured notes or loans do not have the backing of collateral, and are therefore typically issued to borrowers who are not at "high risk" of defaulting on the note/loan. The templates may be downloaded in .PDF or Word format. The .PDF template can be completed electronically.
Usury Rate – Under §24-4.5-3-201 the maximum rate of interest (per annum) is twenty-five percent (25% – on loans less than $50,000). Judgement interest rates cannot exceed eight percent (8%). Likewise, if the parties have not entered into a written contract with one another, the interest rate is a base eight percent (8%).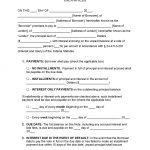 The Indiana Secured Promissory Note Template is a written agreement that is used by lenders to detail various aspects of a loan including the principal sum, interest rate, payment information (installment amount, due date, etc.), and more. The template can be downloaded using the links at the top of the page (available in .PDF and […]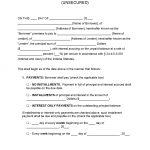 The Indiana Unsecured Promissory Note Template can be download in MS Word or .PDF format. Unsecured promissory notes differ from secured ones because they are not backed by collateral. For this reason, unsecured notes/loans are usually only given to borrowers who are not at risk of defaulting. If a borrower ends up on defaulting on an […]