| | |
| --- | --- |
| | Kentucky Promissory Note Templates |
The Kentucky promissory note templates allow two parties (lender/borrower) to enter into an agreement regarding a loan. There are two different kinds of promissory notes: secured and unsecured. In a secure note the borrower must pledge collateral, whereas in an unsecured note there is no collateral involved. Should a borrower default on a secured note or loan, the lender can take possession of the pledged collateral.
Click the secured/unsecured links to view more information regarding promissory notes. The templates may be downloaded in two different formats: .PDF or Word.
Usury Rate – Under KRS § 360.010 the legal rate of interest in the State of Kentucky is eight percent per annum (8%). Additional information regarding exceptions to the law may be found on this page.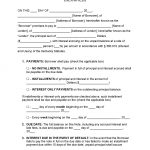 The Kentucky Secured Promissory Note Template is a written agreement that establishes the various terms of a loan. The document is entered into by two parties – a lender and borrower. In a secured note, the lender provides the borrower with a monetary loan (principal sum) in exchange for the borrower's collateral. If the borrower ends […]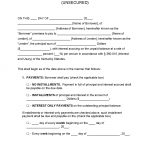 The Kentucky Unsecured Promissory Note Template is a legal document that establishes an agreement between a lender and borrower. Promissory notes are used to outline the various terms of a loan. Unsecured notes are not backed by a borrower's pledged assets (i.e. collateral), in contrast to secured notes. The template may be downloaded in .PDF or […]