| | |
| --- | --- |
| | Massachusetts Promissory Note Templates |
Learn how to use the Massachusetts promissory note templates by reading the guides (linked to on this page). Promissory notes are written agreements that provide an outline of the details/terms of a loan. There are two different types of notes: secured and unsecured. Borrower's are required to pledge assets as collateral (with secured notes). If a borrower defaults on the note, the lender can take possession of the collateral. Borrowers do not pledge collateral in unsecured notes. If a borrower defaults an an unsecured note, the lender's only option to regain the principal sum is to file a civil suit against the borrower.
Usury Rate – The legal maximum interest rate is six percent (6%) per annum. More information regarding Massachusetts usury laws can be found in Massachusetts General Laws Chapter 107 §3.
Note: Parties may agree to any percentage rate under twenty percent 20%. However any rate over 20% is considered usury.
The Massachusetts Secured Promissory Note Template is intended to be used as a starting point when drafting a secured note. Secured promissory notes are a type of written agreement that is legally enforceable, entered into by a lender and borrower. The template is available for download in .PDF format (or Word). Use the instructions in the […]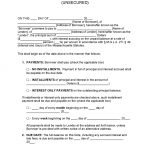 Download the Massachusetts Unsecured Promissory Note Template in the file formats provided on this page (download links located at the top of the page). The template is designed to be used as a starting point when drafting a promissory note. The template outlines the required terms of a note (parties, principal sum, interest rate, payment method, […]