| | |
| --- | --- |
| | Maryland Promissory Note Templates |
Use the Maryland promissory note templates (download links on this page) as a starting point when drafting your secured or unsecured promissory note. Promissory notes are what lenders use to detail the terms of a loan. Notes require the signatures of the lender, borrower, as well as witnesses.
Secured vs. Unsecured: Secured notes require that the borrower pledges assets as collateral in order to receive the monetary loan from the lender. The lender can collect the collateral if the borrower defaults on the note/loan. 
Usury Rate – According to Maryland Code § 12-102, the maximum interest rate allowed in the State of Maryland is six percent (6%).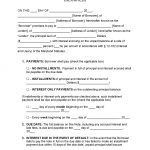 The Maryland Secured Promissory Note Template is a type of contractual form that is used by lenders to outline specific terms of loan including the interest rate, principal sum, payment method/schedule, etc. Secured promissory notes are "secure" due to the backing of the borrower's collateral. Security: The borrower pledges assets as collateral and agrees to pay […]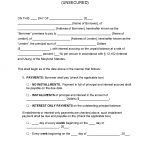 The Maryland Unsecured Promissory Note Template can be downloaded using the links posted on this page (available in Word or .PDF format). The .PDF template can be completed (and even signed) electronically. Unsecured promissory notes are not backed by the collateral of a borrower (in direct contrast to secured notes). For this reason, unsecured notes are […]