| | |
| --- | --- |
| | Maine Promissory Note Templates |
The links on this page are provided for you to download the Maine promissory note templates. Promissory notes are legal written agreements that are used to structure/detail the terms of a loan (e.g. interest rate, principal amount, repayment method, etc.). The templates are designed to be used when drafting a secured (or unsecured) promissory note. Secured notes have the backing of a borrower's collateral, whereas unsecured notes do not. Use the links provided on this page to learn how to draft a secured or unsecured note.
Usury Rate – Under Maine Revised Statutes Title 9-A, the maximum rate of interest in the State of Maine is 6%. However there are exceptions to this law (such as if the parties agree to another rate). Click the link for more information regarding exceptions.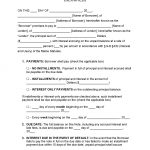 The Maine Secured Promissory Note Template is an interest-bearing agreement that is legally enforceable. Secured promissory notes are a type of agreement that lenders use to establish the terms of a loan. The borrower must sign the document before they can receive the monetary loan from the lender. The borrower must also pledge collateral as well. […]
The Maine Unsecured Promissory Note Template is an agreement that lenders use to detail the various terms of a loan such as the principal sum, interest rate, installment/payment information, etc. Unsecured notes differ from secured notes in that they are not backed by the collateral of the borrower. Unsecured notes or loans are usually reserved for […]