| | |
| --- | --- |
| | Nebraska Promissory Note Templates |
The Nebraska promissory note templates are written agreements that serve to detail specific terms of a loan such as the interest rate, principal sum, repayment method, etc. There are two primary types of promissory notes: secured and unsecured. Secured notes are "secure" because the borrower pledges a form of security (i.e. collateral). The security is used in case of a default on the loan (the lender will take possession of the collateral). Unsecured notes do not have/require any collateral.
Usury Rate -Per N.R.S. § 45-101.03 (Nebraska Revised Statute § 45-101.03) The legal maximum rate of interest in the State of Nebraska is sixteen percent (16%) per annum.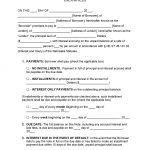 The Nebraska Secured Promissory Note Template is a contractual form, entered into by a lender and borrower, which establishes the specific terms of a loan. The template is available for download in two different formats: .PDF or Word. The instructions posted below provide a guide on how to fill the document out. How to Write Step […]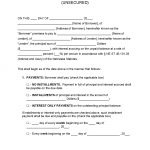 The Nebraska Unsecured Promissory Note Template is a contractual document, that establishes an agreement between a lender and borrower (regarding a loan). The note provides the terms of the loan, such as the principal sum, borrower's repayment method, payment schedule, interest rate, etc. Unsecured notes are typically only issued to "low-risk" borrowers (due to the fact […]