| | |
| --- | --- |
| | New Hampshire Promissory Note Templates |
The New Hampshire promissory note templates are to be used when drafting a secured on unsecured promissory note for use in the State of New Hampshire. Promissory notes outline the various facets of a loan (e.g. interest rate, loaned amount, late fees, payment schedule/frequency, installment amount, etc.). Use the links on this page to download the templates in .PDF or Word format.
Usury Rate – Although there is a default rate of ten percent (10%), per § 336:1, New Hampshire is one of the few states in the country to not have laws regarding usurious lending practices. Parties can essentially contract any interest rate (as long as the agreement is in writing).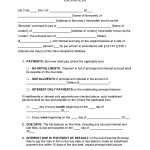 The New Hampshire Secured Promissory Note Template is a legal document that details the specific terms regarding a loan. The contractual form is entered into by two parties: a lender and borrower. The borrower is required to provide collateral (which is the reason why the note is "secured"). In the event of a default, the lender […]
The New Hampshire Unsecured Promissory Note Template is designed for drafting an unsecured note for use in the State of New Hampshire. Unsecured notes, in direct contrast to secured notes, do not require that the borrower pledge collateral in exchange for receiving a loan. In the event of default, the lender's only recourse with an unsecured […]