| | |
| --- | --- |
| | New Jersey Promissory Note Templates |
Create a free promissory note using the New Jersey promissory note templates provided on this page. The templates can be downloaded in .PDF or Word format. A promissory note is a legally enforceable written agreement entered into by two parties (a lender/borrower). The purpose of a note is to lay out the specific terms of a loan – such as the principal sum, interest rate, and other conditions.
Secured vs. Unsecured: Secured notes require that the borrower pledge some form of collateral (i.e. "security"). If the borrower defaults on the note, the lender has the legal right to take possession of the security. Unsecured notes do not require the borrower to pledge security.
Usury Rate – Under N.J.S.A. § 31:1-1, the maximum interest rate that may agreed to (in a written agreement) is sixteen percent (16%).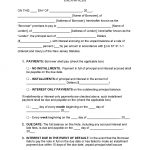 Use the New Jersey Secured Promissory Note Template to create a free note (designed for use in the State of New Jersey). Promissory notes are used to detail various aspects of a loan (e.g. amount, interest percentage, payment method, etc.). The instructional guide posted below may be used as a reference when drafting your note. […]
The New Jersey Unsecured Promissory Note Template is a legal document, that as the name suggests does not require the borrower to provide collateral in exchange for a loan (unlike a secured note). The main advantage of a promissory note is the fact that it is legally enforceable. If the borrower does not follow the terms […]