| | |
| --- | --- |
| | New Mexico Promissory Note Templates |
Create a promissory note quickly and easily using the New Mexico promissory note templates posted on this page. The templates are available for download in .PDF or Word format. Notes are used by lenders/borrowers to establish a legally enforceable agreement (regarding a loaned sum of money). Promissory notes can be either secured or unsecured. The key difference between the two is that secured notes require the borrower to pledge a form of security (aka collateral) in order to receive the loaned amount. Learn more about how to draft your document by visiting the secured/unsecured pages (linked to below).
Usury Rate – According to New Mexico Statutes § 56-8-3, the maximum interest rate that can be charged (in absence of a fixed rate established in writing) is fifteen percent (15%).
The New Mexico Secured Promissory Note Template provides a clear view of the terms of a loan. The document, entered into by a lender and borrower, is legally enforceable (as long as it is properly formatted/signed by all of the involved parties). Secured notes are "secure" due to the collateral that is provided by the […]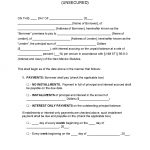 The New Mexico Unsecured Promissory Note Template provides the fixed interest rate, principal sum, installment amount, payment frequency, and other terms of a loan. Unsecured notes do not require that the borrower  pledge security in exchange for receiving a loan from the lender (hence being "unsecured"). The template is provided in two formats, and is designed […]