| | |
| --- | --- |
| | Nevada Promissory Note Templates |
The Nevada promissory note templates describe the terms of a loan such as the principal sum, agreed interest rate, installment/payment amount, payment schedule/frequency, etc. Promissory notes are entered into by two parties: a lender and borrower. There are two different kinds of notes – secured and unsecured. The primary difference between the two is that secured notes require the pledging of assets as collateral (from the borrower).
Usury Rate – Nevada is one of the few states in the country that has no laws pertaining to usurious lending. There is a legal default interest rate of whatever the contract/prime rate of Nevada's largest bank is (plus 2%) – however due to the fact there are no usury laws, there is a lot of room for lenders/borrowers to negotiate agreed interest rates. In other words -lenders/borrower may effectively agree to any interest rate. More information is available here: § Nevada Statutes 99.040.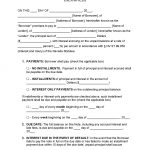 The Nevada Secured Promissory Note Template is a blank legal document that is designed for use in the State of Nevada. The form outlines the principal sum, interest rate, payment schedule/method, and other various terms of a loan. Promissory notes are entered into by a lender and borrower, and must be signed by all involved […]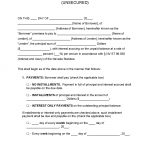 The Nevada Unsecured Promissory Note Template is a contractual form that is entered into by two parties (a lender and borrower). The document serves to outline the principal sum, interest rate, repayment method, and other terms of a loan. Unsecured notes do not require the borrower to pledge collateral (as opposed to secured notes). Because of […]