| | |
| --- | --- |
| | South Dakota Promissory Note Templates |
The South Dakota promissory note templates are designed to be used for the drafting of secured or unsecured promissory notes. The main difference between the two types of agreements is that secured notes require the borrower to pledge security (i.e. collateral), whereas unsecured notes have no such requirement. When drafting your note, take care to include all of the necessary information. More details regarding what information is required in a promissory note can be found in the secured/unsecured how-to guides (click the links on this page).
Usury Rate – Under S.D. Codified Laws § 54-3-4 and § 54-3-16(3), the maximum rate of interest in the State of South Dakota is 12% if no written contract is made – however, parties may contract any rate (provided it has been agreed upon in a written agreement).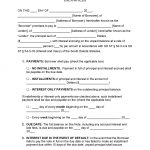 The South Dakota Secured Promissory Note Template is a contractual form entered into by a lender and borrower that establishes the terms of a loan agreement. The loan amount, interest rate, repayment method, and other terms are all detailed within the document. The form is "secured" due to having the backing of collateral (i.e. security), pledged […]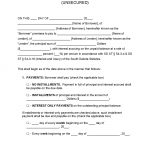 The South Dakota Unsecured Promissory Note Template can be used to draft the terms of a loan agreement. The document, entered into by a borrower and lender, is legally enforceable (provided it has been properly formatted/signed/etc.). "Unsecured" promissory notes do not require the borrower to pledge collateral (as opposed to secured notes). For this reason, unsecured […]