| | |
| --- | --- |
| | Tennessee Promissory Note Templates |
The Tennessee promissory note templates can be used to create secured or unsecured promissory notes (for use in the State of Tennessee). Promissory notes are legal documents that provide an outline of a loan's various terms (e.g. loaned amount, interest rate, payment schedule/installment amount, etc.). Secured notes require the borrower to pledge collateral (as security). If a borrower defaults on a secured note they may lose possession of their pledged assets. This is the primary difference between secured and unsecured notes (unsecured notes are not backed by collateral).
Usury Rate – Under §47-14-103 (of the Tennessee Code), the legal interest rate is capped at ten percent (10%). More information regarding Tennessee usury law can be viewed here.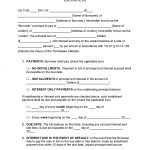 The Tennessee Secured Promissory Note Template is a downloadable legal form (download links at the top of this page). The document, entered into by a lender/borrower, outlines the principal sum, interest rate, and other terms of a loan. In order for the document to be legally valid, it must be signed by the borrower, lender, and […]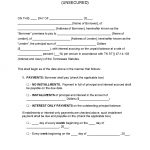 The Tennessee Unsecured Promissory Note Template is available for download on this page (in .PDF or Word format). Unsecured promissory notes are a type of legal form which describe the various features of a loan agreement. Contrary to secured notes, unsecured notes do not have security (i.e. collateral) pledged from the borrower. Use the instructions […]