| | |
| --- | --- |
| | Texas Promissory Note Templates |
The Texas promissory note templates are designed to be used as a starting point when drafting secured on unsecured notes. Although both types of notes serve the same purpose (of outlining the terms of a loan), they differ in the fact that secured notes require some form of collateral (from the borrower). Go to the "Secured" or "Unsecured" pages (linked to below) to learn the requirements of a properly drafted promissory note. Or you can simply download the template via the links on this page to start drafting your note.
Usury Rate – Under §303.002, the maximum interest rate that can be charged in the State of Texas (absent of a signed contract) is ten percent (10%) per annum. There are however numerous exceptions to this law, go to this page for more information.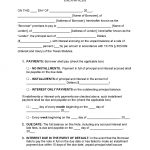 The Texas Secured Promissory Note Template is available for download via the links on this page (in two forms – .PDF or Word). The template can only be used to draft a secured note, not an unsecured one. The main difference between the two types of notes is that secured promissory notes have the backing of […]
Use the instructions on this page to learn how to complete the Texas Unsecured Promissory Note Template. The template is intended to be used in order to quickly and easily draft an unsecured promissory note. The guide posted below details the various requirements of a promissory note. Use it as a reference when drafting your […]