| | |
| --- | --- |
| | Utah Promissory Note Templates |
There are two different types of Utah promissory note templates that can be downloaded: secured and unsecured. The secured promissory note template should be used if the borrower intends to pledge collateral (in exchange for the loan). The unsecured template can only be used if there is no requirement for the borrower to provide collateral. The templates can be downloaded in .PDF or Word format. The .PDF file can be completed (and even signed) digitally on your computer or tablet.
Usury Rate – Under Utah Code 15-1-1, the maximum interest rate (in the absence of a contract) is ten percent (10%).
Use the Utah Secured Promissory Note Template to draft a custom secured promissory note. Secured notes, as opposed to unsecured notes, require that the borrower pledge some form of collateral (hence being "secured"). The instructions provided below detail the various requirements of a completed promissory note. Follow the guide to learn how to properly fill out the […]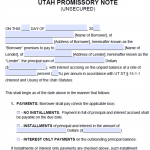 Learn how to draft the Utah Unsecured Promissory Note Template by reading the instructional guide posted on this page. The template is specifically designed to be used for drafting an unsecured promissory note. Unsecured notes can only be used if the borrower is not pledging assets (as collateral). The template can be downloaded in .PDF […]