| | |
| --- | --- |
| | Vermont Promissory Note Templates |
The Vermont promissory note templates are available for download via the links posted on this page. The templates can be used to draft secured or unsecured promissory notes. The difference between the two types of notes is that if a note is "secured," it must have the backing of collateral (pledged from the borrower). Promissory notes are essentially an outline of a loan agreement, they contain the principal sum of the loan, interest rate, payment schedule/amount, and other terms.
Usury Rate – Per Title 09, Chapter 004, the (maximum) rate of interest allowed in the State of Vermont is twelve percent (12%) per annum.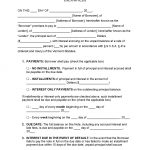 The Vermont Secured Promissory Note Template is a .PDF/Word document that can be used to quickly create a secured promissory note. Once completed, the form will outline the required terms of a loan (such as the interest rate, principal sum, payment schedule, etc.). It should be noted that one of the main requirements of a "secured" […]
The Vermont Unsecured Promissory Note Template is a contractual form that is entered into by a lender and borrower. The document, which is legally enforceable, describes the various terms of a loan (e.g. loan amount, interest rate, borrower's method of repayment, etc.). Use the links at the top of the page to download the template in […]