| | |
| --- | --- |
| | Wisconsin Promissory Note Templates |
The Wisconsin promissory note templates are downloadable forms that can be used to quickly create both secured and unsecured notes (for use in the State of Wisconsin). Promissory notes are legally binding agreements that are entered into by a lender and borrower. Notes are used to provide a (legally enforceable) written record of the terms of a loan (e.g. amount of loan, interest rate, borrower's method of repayment, etc.). Use the links on this page to download the template in your preferred file format.
Usury Rate – Under §138.04, the maximum interest rate (without a contract) is five percent (5%) – unless another rate has been contracted/agreed upon (in writing).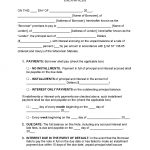 The Wisconsin Secured Promissory Note Template can be downloaded in .PDF/Word format. The document is a legally enforceable agreement between two parties (a lender/borrower), which covers the specific terms of a loan (e.g. principal sum, agreed interest rate, payment method/schedule, etc.). The template available on this page is specifically designed for the creation of a secured […]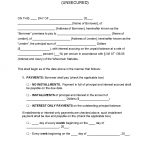 The Wisconsin Unsecured Promissory Note Template was created to be used as a starting point when drafting an unsecured note. Unsecured notes, in direct contrast to secured notes, do not require the borrower to pledge collateral. The template posted on this page should only be used to draft an unsecured note. If you need a secured […]