| | |
| --- | --- |
| | Wyoming Promissory Note Templates |
Download the Wyoming promissory note templates to easily draft a secured or unsecured promissory note. The templates are available for download in .PDF or Word format. The .PDF file can be digitally filled out/signed. Use the secured template if you need to draft a note in which the borrower will provide collateral (as security). If the borrower will not be pledging collateral then use the unsecured template. Learn the requirements of each template type by visiting the links on this page.
Usury Rate – Under § 40-14-106(e), the legal rate of interest is capped at seven percent (7%) per annum.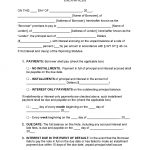 The Wyoming Secured Promissory Note Template is a legal form used to provide an outline of a loan's various terms. The template can be downloaded in two separate formats (.PDF or Word). This template should only be used if you are drafting a secured note (i.e. a note in which the borrower will be pledging collateral). […]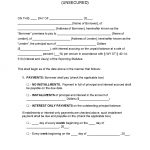 The Wyoming Unsecured Promissory Note Template is a legally enforceable document which serves to establish the terms of a loan. The document must be properly formatted/filled out (read the guide posted below for more details). Once the note has been completed, it must be signed by the borrower, lender, and witnesses in order for it to […]