| | |
| --- | --- |
| | California Promissory Note Templates |
The California promissory note templates can be used to draft secure or non-secure promissory notes, which are contracts that are entered into by two parties (a lender and a borrower). Contained within the document is the term length, repayment method, interest rate information, default interest, etc. The difference between secure and non-secure notes is that secured notes are backed by specific assets of the borrower (i.e. collateral). If the borrower defaults on the loan and does not "cure" it within the specified time length (usually a certain number of days), the lender has the right to take possession of the collateral.
Usury Rate – Under California Constitution Article XV § 1 the maximum interest rate for personal (consumer) loans is ten percent (10%). More information regarding usury laws in California can be viewed via the link posted above.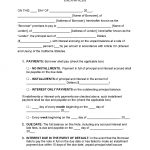 The California Secured Promissory Note Template can be downloaded in .PDF or Word format using the links provided on this page. Secured promissory notes are a type of contract entered into by a lender and a borrower. They are "secured" because they are backed by collateral (that is pledged by the borrower). If the borrower ends […]
The California Unsecured Promissory Note Template can be downloaded using the .PDF/Word links on this page. Unsecured notes are a type of contract entered into by a lender and a borrower. The difference between a "secured" note and an unsecured one is that if the borrower defaults on an unsecured loan, the lender may file a […]