| | |
| --- | --- |
| | Idaho Promissory Note Templates |
The Idaho promissory note templates are legal documents that are used to establish the terms of a loan. Notes can be either secured or unsecured. Secured notes have the backing of the borrower's collateral. If the borrower defaults on the loan (and fails to cure it), the lender can take possession of the collateral in order to satisfy the debt. Unsecured notes do not have pledged assets, and are most often used with borrowers who are considered "low risk" (due to unsecured notes/loans having a higher level of risk for lenders).
Usury Rate – The maximum interest rate in the State of Idaho (for personal loans) is capped at 12%. More information regarding Idaho's usury laws can be found on this page.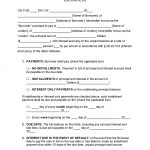 The Idaho Secured Promissory Note Template can be downloaded via the links provided on this page. The template is available in .PDF or Word format. Secured promissory notes are used to outline the specific terms of a loan (principal sum, interest rate, payment schedule/method, default information, etc.). In contrast to unsecured notes, secured promissory notes […]
The Idaho Secured Promissory Note Template is a legal document that is entered into by two parties – a lender/borrower. The form serves to establish the details/terms of a loan (e.g. principal sum, interest rate information, payment method, etc.). What separates an unsecured promissory note from a secured note, is that the unsecured note does not […]