| | |
| --- | --- |
| | Kansas Promissory Note Templates |
The Kansas promissory note templates can be downloaded in both .PDF or Word format. The documents are available as unsecured/secured templates. Promissory notes provide an outline of the principal sum, interest rates, payment schedule, and other terms of a loan. There are two types of notes – secured and unsecured. The primary difference between the two is that with secured notes the borrower must pledge assets as collateral (hence being "secure").
Usury Rate – According to K.S.A. 16-207, the maximum rate of interest in the State of Kansas is fifteen percent per annum (15%).
The Kansas Secured Promissory Note Template is a written agreement that is entered into by two parties – a lender and a borrower. The agreement is primarily used to establish the terms of a loan (such as the agreed upon interest rate, principal sum, payment schedule, etc.). Secured notes have the backing of the borrower's pledged […]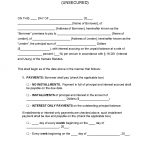 The Kansas Unsecured Promissory Note Template is a legal document that is available for download using the links posted near the top of this page. The document is an unsecured promissory note template. Unsecured notes are a type of written agreement that establishes specific terms of a loan (e.g. amount, interest rate per annum, payment/installment schedule, […]