| | |
| --- | --- |
| | Missouri Promissory Note Templates |
Use the Missouri promissory note templates to draft a secured or unsecured promissory note (for use in the State of Missouri). Notes are legal documents entered into by two parties – a lender and borrower – and cover the specific terms of a loan (e.g. interest rates, loan amount, payment schedule, etc.). If a borrower defaults on the note (i.e. does not pay it back), the lender can file a civil suit against them. If a borrower defaults on a secured note, the lender can take possession of the collateral that the borrower has pledged.
Usury Rate – According to laws set forth in various sections of the Missouri Revised Statues, the maximum interest rate is 10%. However there are several exceptions to this law – more details on this page.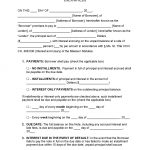 The Missouri Secured Promissory Note Template is a legal document entered into by two parties: a lender and borrower. Secured promissory notes are used to outline the principal sum, interest rates, installment amount/schedule, and other terms of a loan. The note is "secured" due to having the backing of the borrower's pledged assets (i.e. collateral). […]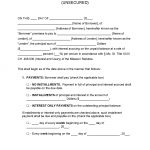 The Missouri Unsecured Promissory Note Template is a written agreement, entered into by a lender and borrower, that outlines the principal sum, installment/payment amount, interest rate(s), and other facets of a loan. Unsecured notes, unlike secured ones, are not backed by assets pledged from the borrower. In the event of default, the lender's only recourse is […]