| | |
| --- | --- |
| | Mississippi Promissory Note Templates |
The Mississippi promissory note templates are written agreements that are intended to be used when drafting a secured or unsecured note. Promissory notes essentially lie in the grey area between a formal loan contract and an informal I.O.U. That being said, they are legally enforceable documents and should be taken seriously by borrowers. If a borrower defaults on a note, the lender can take legal action against them (either by filing a civil suit or taking possession of the borrower's pledged collateral). Use the links on this page to learn more about secured/unsecured promissory notes.
Usury Rate – The maximum rate of interest in the State of Mississippi, per MS Code § 75-17-1, is limited to eight percent per annum (8%). However certain exceptions exist – for more information go to the linked page.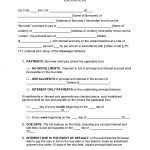 The Mississippi Secured Promissory Note Template is a legal form, entered into by a lender and borrower, which establishes the principal sum, agreed upon payment method, interest rate, and other terms of a loan. Secured notes require that the borrower pledge collateral to the lender (in case the borrower defaults). In the event of a default […]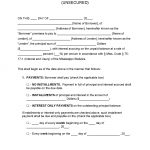 The Mississippi Unsecured Promissory Note Template is a legal form that can be downloaded as a .PDF or Word file. The form is used to outline the terms of a loan (e.g. principal sum, payment method, interest rates, etc.). As opposed to secured notes, unsecured notes are not backed by a borrower's collateral. Therefore, unsecured notes/loans […]