| | |
| --- | --- |
| | North Carolina Promissory Note Templates |
The North Carolina promissory note templates allow for a lender and borrower to enter into a written loan agreement. The templates provide a quick and easy way to draft a secured or unsecured note. The main difference between a secured note and an unsecured one, is that the borrower must provide collateral (for a secured note). The purpose of a promissory note is to provide a written record of a loan's specific terms (e.g. interest rate, loaned amount, payment method, payment schedule, etc.). The links on this page can be used to download the templates in .PDF or Word format.
Usury Rate – Under § 24-1 of the North Carolina General Assembly, the maximum legal rate is set at eight percent (8%) – however the law also states that parties may contract for a higher rate (as long as it is in writing).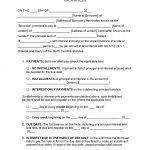 The North Carolina Secured Promissory Note Template may be downloaded via the links posted on this page. The templates are available in two different formats: .PDF and Word. The templates are simple, straightforward forms that can be filled out in a matter of minutes. Promissory notes cover the various terms of a loan. Secured promissory notes […]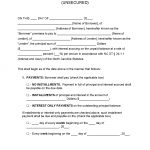 The North Carolina Unsecured Promissory Note Template is a legal form that establishes the various terms of a loan agreement. The document, entered into by a lender and borrower, is legally enforceable once it has been signed the involved parties. Unsecured promissory notes are not guaranteed by the backing of a borrower's pledged assets (i.e. collateral). […]