| | |
| --- | --- |
| | North Dakota Promissory Note Templates |
The North Dakota promissory note templates are legally enforceable written agreements that establish the parties and terms of a loan. Promissory notes can be secured or unsecured – both types are available for download via the links on this page. Secured notes require the borrower to pledge some form of collateral as security (in the event of default the lender may take possession of the secured assets). Click the "Secured" or "Unsecured" links on this page to learn what information is required on a note in order for it to be legally valid.
Usury Rate – The maximum interest rate in the State of North Dakota is six percent (6%) – per §47-14-05. However, if the parties enter into a written agreement, the interest percentage can be up to 5.5% greater than the average interest rate of U.S. Treasury bills.
The North Dakota Secured Promissory Note Template is a legally binding document that serves to detail the parties/terms of a loan. The borrower is required to provide security (i.e. collateral) in exchange for receiving the loan. In order for the document to be legally enforceable it must be signed by borrower, lender, and witnesses. Follow the […]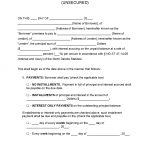 The North Dakota Unsecured Promissory Note Template is a type of contract that is entered into by a lender and borrower. The contract details the parties (lender/borrower) and terms of loan (loaned amount, interest rate, repayment method/schedule, due dates, etc.). The template can be downloaded in .PDF or Word format. The .PDF template can be completed […]