| | |
| --- | --- |
| | Rhode Island Promissory Note Templates |
Create a free secured or unsecured promissory note using the Rhode Island promissory note templates posted on this page. The templates can be downloaded as .PDF or Word files. The secured template is designed to be used when drafting a note that requires the borrower to pledge collateral (i.e. security). Click the links on this page for information regarding how to properly draft/format a promissory note.
Usury Rate – Under § 6-26-2, the maximum interest rate in the State of Rhode Island is twenty one percent (21%).
Note: This only applies to written agreements. More information can be viewed via the link posted above.
The Rhode Island Secured Promissory Note Template is a legally enforceable document that's used to outline the specific terms of a loan (including the interest rate, principal sum, payment frequency, etc.). The template, available for download on this page, is designed to be used as a starting point when drafting secured notes. The main requirement of […]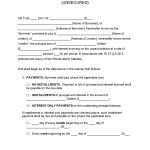 Use the instructions posted below to learn how to draft the Rhode Island Unsecured Promissory Note Template. The template was specifically created for Rhode Island residents. Promissory notes are essentially a type of written loan agreement between two parties (a lender and borrower). This template can only be used to draft an "unsecured" note (i.e. […]