| | |
| --- | --- |
| | South Carolina Promissory Note Templates |
Use the South Carolina promissory note templates to create a secured or unsecured promissory note for use in the State of South Carolina. The templates can be downloaded in .PDF or Word format. Promissory notes are a kind of written agreement used to outline the details of a loan (e.g. loaned amount, interest rate, name of borrower/lender, repayment schedule, etc.). The difference between a secured note and an unsecured one, is that the borrower must pledge security (aka collateral) when signing a secured note.
Usury Rate – Under §34-31-20 of the South Carolina Code of Laws, the maximum legal interest rate is 8.75%.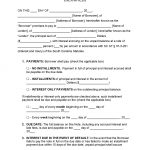 The South Carolina Secured Promissory Note Template is a legal form that formally enters two parties into an agreement regarding a loan. The document covers such details as the loan's principal sum, interest rate, payment schedule, and other terms. Use the guide in the how-to section below as a reference when filling out the template. How […]
The South Carolina Unsecured Promissory Note Template can be downloaded in two separate formats: .PDF or MS Word. The template is designed to be used as a starting point when drafting an unsecured note. An unsecured promissory note details the parties, principal sum, interest rate, payment method/schedule, etc. of a loan. Note: Unsecured notes do not […]